Dental Implants | Concord CA
Concord dentist, Dr. Naina Jain is highly skilled in dental implant treatment and understands most patients can feel uneasy when visiting our office for a dental implant placement. So it is our goal to provide a welcoming and comfortable environment for your treatment. In order to assist our patients in being more informed about the benefits of obtaining a dental implant, please feel free to read more below.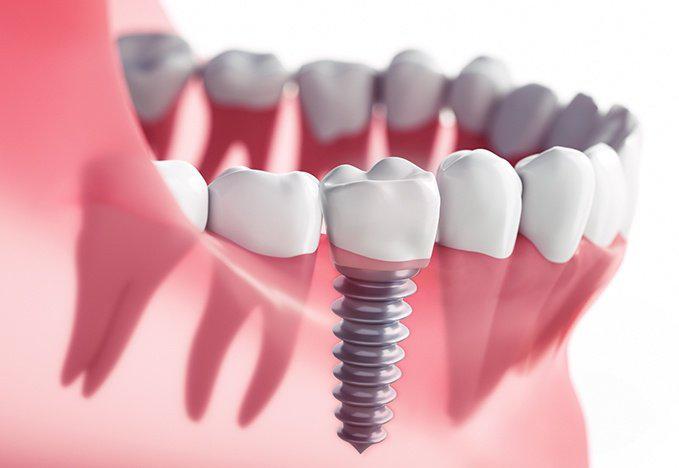 Dental implants are the closest you can get to healthy, natural teeth. They allow you to live the way you want to – confidently eating, smiling, laughing, talking and enjoying all of your everyday activities without worrying about your teeth.
Dental implants can be an ideal solution to replacing damaged or missing teeth. They can restore not only the functionality of teeth but can provide a great new look as well. Dental implants are a standard cosmetic dental option offered at Dr. Naina Jain's dental office in Concord, CA.
There are three major causes of tooth loss, a condition that affects more than 150 million people throughout the US: gum disease, trauma, and tooth decay. At Mt. Diablo Family Dentists in Concord, CA we believe the only way to truly achieve a sense of wholeness, eat the food you wish to eat, and speak without alteration is through dental implants.
A dental implant is a small metal post that is used to replace the natural root of the tooth. This dental implant serves as a stable base onto which an artificial tooth (restoration) can be anchored.
Implant treatment does not involve grinding the adjacent teeth. On the contrary, implant treatment not only stops bone loss but also stimulates bone and maintains jaw size. Facial features are not compromised, and chewing efficiency can be returned to near normal limits.
Caring for Your Dental Implant
Implants have a very high success rate (close to 98%). Like natural teeth, dental implants require thorough, daily maintenance and professional cleanings at our Concord, CA dental office.
Why choose Dr. Jain in Concord, CA for Dental Implants?
Many general dentists only offer implant restoration, and refer patients to an oral surgeon for the implant placement. Dr. Jain not only restores implants, but places them as well. This puts her in a unique position to see the big picture of a patient's total implant experience. She can truly begin with the end in mind, customizing the whole treatment and patient experience.
If you are looking for sturdy, lasting, and discreet replacement teeth, then call us to learn more about our dental implant procedures today.
Implant-Supported Dentures
Implant-supported dentures are over-dentures fixed to the gums by implants. For patients with an uncomfortable or loose-fitting denture, stabilizing it with implants can be a more comfortable and functional solution.
Implants are placed in the jaw, where they are anchored firmly in the surrounding bone. Attachments are placed in the underside of the denture that connect to the implants. When placed in the mouth, the denture snaps onto the implants, keeping it stable and secure.